Latest News
Oct 2, 2015
VEGAPULS 69 – The new radar sensor for bulk solids
Reliable level measurement for an extremely wide application spectrum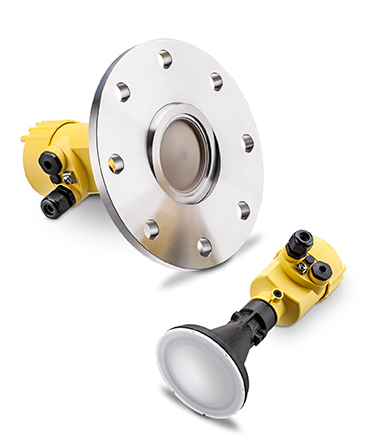 For nearly 20 years, VEGA has been market leader in the radar level measurement sector. Now the Schiltach-based company is presenting VEGAPULS 69, a sensor that takes a big step closer to the ideal of an all-round radar level measurement instrument for bulk solids. The level transmitter operates at a frequency of 79 GHz, which allows a considerably better focusing of the transmitted signal. In containers and silos with many internal obstructions, this enhanced focusing helps to reduce the influence of background 'noise'. This means that reliable measurement is also possible even with complex internal structures.
New microwave components allow the sensor to detect even the smallest reflected signals. Even products, which until recently were very difficult to measure because of their poor reflective properties (such as plastic powders or wood chips) can now be measured with very high reliability. This considerably extends the application range for radar technology in the bulk solids industry and opens up new application areas as well.
With a measuring range of up to 120 meters and an accuracy of ±5 mm, the sensor has sufficient performance capability even for the out of the ordinary tasks, such as level gauging in mine shafts or distance measurement on conveyor systems. Despite its large measuring range, the sensor is also an ideal solution for small hoppers or containers; the different antenna designs enable the optimum solution to meet the application needs.
Completely unaffected by dirt and build up, the innovative lens antenna guarantees maintenance-free operation even in harsh environments.
To make setup and commissioning easier, an intelligent App for smartphones has been developed. It allows quick and easy alignment of the sensor on a swivel holder.
(1,898 characters)
Oct 2, 2015
VEGA Inventory System: New software for inventory visualization
With VEGA Inventory System sensors on tanks and silos can now communicate directly with the supplier – via a Web portal – and report the need for replenishment fully automatically and in good time.
Vendormanaged inventory programs (VMI) are an efficient way of improving inventory monitoring and replenishment. The automated flow of information within a company or between partner companies creates transparency early on for the supplier – and security of supply for the purchaser. VEGA thus makes a strong link – with win-win effect – out of something that until now was a critical weakness in the supply chain.

With the help of the web-based software, the supplier assumes responsibility for the customer's stocks and makes sure they are always sufficiently full. This arrangement gives him greater flexibility in his own resource and logistics management. He no longer has to depend on the customer assessing his needs accurately and ordering replenishments on time. VEGA Inventory System takes over this function. To accomplish this task, the software provides automatic alerts to the supplier.

The program also includes a series of well-designed analytical and planning tools that enables optimized demand, inventory and delivery planning.